Food regimes and their transformation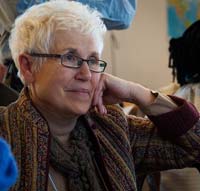 In her first half-hour talk,
Harriet Friedmann looks at food system transformation from the perspective of food regimes. She developed this perspective with
Philip McMichael
at Cornell University. They drew on French historiography, which looks at long time lines (long duree), and on US work on World System Theory, especially as exemplified in the work of Giovanni Arrighi, author of
The Long Twentieth Century: Money, Power, and the Origins of Our Times
, in looking at how the state system and world economy developed through long cycles since its origin 500 years ago, through colonial empires and international trade.
Relations among states in each cycle form a unique state system which organises that global market. This system of states goes through important transitions, in which the dominant states in power change and power alignments shift. The other important influence on this work on regimes is the French idea of filieres – long chains – from farm to table and the systems of transformation – processing, distribution, storage.
Food regime analysis follows these material chains to track state power, capital investment, class formation, and regional specialization constituting historical agro-economic systems. In this talk, Harriet first defines food regimes and their transitions, then discusses them since since the mid 19th century, and the current contradictions that may lead to a new regime