Before Hallmark Cards and Fin de siecle 19th century capitalism commercialized Mothers Day it was originally a celebration of Peace and a call to End War.
History of Mother's Day: Julia Ward Howe
The idea of official celebration of Mothers day in US was first suggested by Julia Ward Howe in 1872. An activist, writer and poet Julia shot to fame with her famous Civil War song, "Battle Hymn of the Republic". Julia Ward Howe suggested that June 2 be annually celebrated as Mothers Day and should be dedicated to peace. She wrote a passionate appeal to women and urged them to rise against war in her famous Mothers Day Proclamation, written in Boston in 1870. She also initiated a Mothers' Peace Day observance on the second Sunday in June in Boston and held the meeting for a number of years. Julia tirelessly championed the cause of official celebration of Mothers Day and declaration of official holiday on the day. Her idea spread but was later replaced by the Mothers' Day holiday now celebrated in May.

History of Mother's Day: Anna Jarvis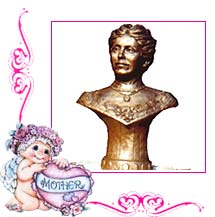 Anna Jarvis is recognised as the Founder of Mothers Day in US. Though Anna Jarvis never married and never had kids, she is also known as the Mother of Mothers Day, an apt title for the lady who worked hard to bestow honor on all mothers.

Anna Jarvis got the inspiration of celebrating Mothers Day from her own mother Mrs Anna Marie Reeves Jarvis in her childhood. An activist and social worker, Mrs Jarvis used to express her desire that someday someone must honor all mothers, living and dead, and pay tribute to the contributions made by them.

A loving daughter, Anna never forgot her mothers word and when her mother died in 1905, she resolved to fulfill her mothers desire of having a mothers day. Growing negligent attitude of adult Americans towards their mothers and a desire to honor her mothers soared her ambitions.

To begin with Anna, send Carnations in the church service in Grafton, West Virginia to honor her mother. Carnations were her mothers favorite flower and Anna felt that they symbolised a mothers pure love. Later Anna along with her supporters wrote letters to people in positions of power lobbying for the official declaration of Mothers Day holiday. The hard work paid off. By 1911, Mother's Day was celebrated in almost every state in the Union and on May 8, 1914 President Woodrow Wilson signed a Joint Resolution designating the second Sunday in May as Mother's Day.


"...each war carried within itself, the war which will answer it. Each war is answered by another war, until everything is destroyed...That is why I'm so wholeheartedly for a radical end to the madness...Pacifism simply is not a matter of calm looking on; it is work, hard work...those lovely small apples out there...everything could be so beautiful if it were not for the insanity of war...one day, a new idea will arise and there will be an end of all wars...People will have to work hard for that new state of things, but they will achieve it."
A Mother's Grief: Kathe Kollwitz Descends into the Marginalized
Kathe Kollwitz (1867-1945) was a progressive artist who used art as a cathartic means to live through the death of her son in WWI and grandson in WWII.
Trapped in the sexist generation of early 20th century Germany, K¨athe defied
the society in which she lived to create art that served as an empathetic
mouthpiece for society's marginalized. She created thousands of lithographs and
hundreds of sculptures depicting war, death, and poverty. K¨athe found beauty
in the struggle of the working class and constantly used her physician husband's
patients as subjects of her work. As she continued into the socialist realm, she
made enemies with German leaders, including Adolph Hitler. Her work fiercely
rejected Germany's involvement in World War I and condemned Hitler's Third
Reich near the onset of World War II. K"athe's use of bleak colors and disturbing
subject matter penetrates the viewer's comfort zone. The viewer is unable to
turn away from her work without feeling guilt, and is forever haunted by her
prudent recognition of truth.
Compassionate Witnessing and the Transformation of Societal
Violence: How Individuals Can Make a Difference
As I understand it, my mother named me "Kaethe" after the German graphic artist
Kaethe Kollwitz, whose work greatly moved her.(Kollwitz & Kollwitz, 1988) Kollwitz primarily depicted workers, and mothers and children. She combined her professional work with devotion to family, a life choice that was especially meaningful to my mother. Apparently, when my father came to the hospital and she told him that she had chosen "Kaethe" for my name, he asked her to re-consider this choice, telling her that he feared it would be unwise for a post-Holocaust Jewish child to have a German first name.

Persuaded, my mother and he decided to call me "Kathy." So, I had informed my South
African audience, even a name can bear the imprint of macro-societal traumas. I looked down, searching my notes for the example I had intended to provide.

From the back of the room, a woman shouted at me: "But you are Kaethe." I remember freezing. This woman's father had been a leader in the South African Defense
Forces during the Apartheid years. She had chosen a different path, working with
dedication to improve the lives of all South Africans, and working to dismantle her own racism. Her comment stunned me, pointing out something that was obvious to her but hidden to me. I had tried to construct a life that was consistent with the values expressed in the life and work of this fine human being my mother so admired.
Tags

mother, Kathe Kollowitz, Mothers Day, Anit-War, Peace, Mothers