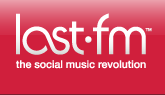 I am using it right now. Which is a learning curve. But when I get it working, it's great. Commercial free music, and interactive community and good quality sound.




Last.fm - The Social Music Revolution
An online radio station for sharing and streaming music. Every user builds his/her own online record collection and taste profile, and shares their musical ...
You get your own online music profile that you can fill up with the music you like. This information is used to create a personal radio station and to find users who are similar to you. Last.fm can even play you new artists and songs you might like. It's addictive, it's growing, it's free, it's music.
Find blog posts, photos, events and more off-site about:
music, radio, onlineradio, last.fm, filesharing, streamingaudio, newmedia, itunes, windowmedia, realaudio,