Engaged Spectator
has launched the First Annual Canadian Lefty Awards.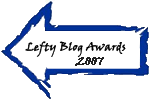 The Lefty's 2007




Nominations in progress.Go to sidebar click on "Nominations 2007″ then submit your nominations.

Accepting nominations ;June 11 - July 14

All participating _Cnd Blogger's_ in the first annual Canadian Lefty Blog Awards get a chance at a draw for $100.
Whether the $100 bucks will be in Canadian Tire money has yet to be revealed.



Find blog posts, photos, events and more off-site about:

left wing blogsblogs, blogging, weblogs, bloggers,
Canada, politics, progressive bloggers, blog awards, left wing, internet, blogs,